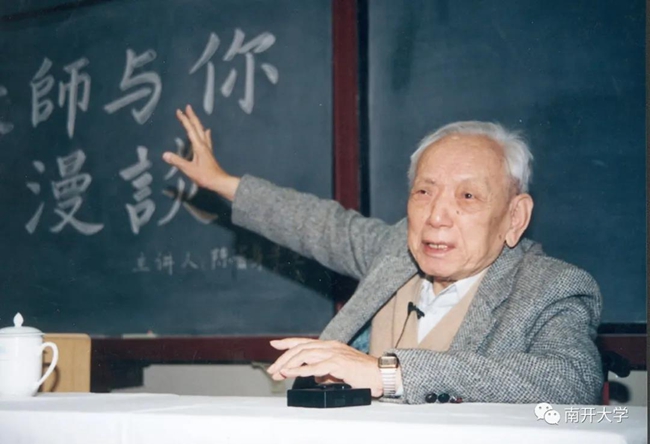 October 28 is the 110th anniversary of the birth of Shiing-Shen Chern. Early in the morning, many Nankai University students and teachers came to Mr. Shiing-shen Chern's grave to lay flowers and bow in memory of the international master who had devoted his life to mathematics.
Shiing-Shen Chern was born in city of Jiaxing, Zhejiang province, and on October 28,1911. He graduated from Nankai University in 1930 and is one of the greatest geometers of the 20th century. He has made outstanding contributions in differential geometry, which affected the development of the whole mathematics. He was praised as another milestone after Euclid, gauss, Bernhard Riemann, Gardon. He has presided over three important mathematics related institutions, including the original Academia Sinica Institute of Mathematics, the National Institute of Mathematics, and Nankai Institute of Mathematics, all of which have cultivated a number of world-renowned mathematicians.
The conference of "Carrying forward the spirit of masters and promoting the development of disciplines" -- in commemoration of the 110th anniversary of Mr. Shiing-Shen Chern's birth" was also held on the same day. Xu Jingjun, the executive vice president of Nankai University; Ge Molin, an academician of the Chinese Academy of Sciences, professor of the Shiing-Shen Chern Institute of Mathematics; and Hou Zixin, the former president of Nankai University, has attended the conference. A large number of students and faculties from the Shiing-Shen Chern Institute of Mathematics, the School of Mathematical Sciences, the Center for Combinatorics, and the School of statistical and data sciences, also gathered for the conference. All the participants reflected upon Shiing-Shen Chern's patriotism, academic attitude, and his trivals of concerns for mathematics education; and recalled his landmark achievements for the development of mathematics. The conference was chaired by Professor Feng Huitao, professor of the Chern Institute of Mathematics.